Since the introduction of this alloy system in 1972, New Ultrafine has enjoyed universal acceptance, by clinicians, as a high quality, easy to use dental amalgam. Continued research into amalgam technology by SDI Research Chemists has enabled the physical properties of New Ultrafine Alloy to be improved and, as a result, this alloy system is superior to all other fine grain alloys due to its lower Static Creep, whilst maintaining its high physical properties.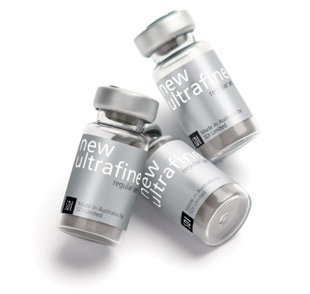 New Ultrafine Alloy does not contain alloy "dust" which modern research has shown is detrimental to the final strength of the amalgam.
The unique manufacturing method of New Ultrafine Alloy produces a low Static Creep figure which indicates that this alloy is capable of providing restorations with long-term marginal integrity.
New Ultrafine Alloy is controlled fine grain lathe cut alloy and has the following particle size distribution:
• 10% between 60 microns and 75 microns
• 17% between 45 microns and 60 microns
• 68% between 20 microns and 45 microns
• 5% less than 20 microns
New Ultrafine Alloy is delightful to use, the condensation mobility of the alloy enables the Practitioner to completely fill all cavities with the minimum amount of effort. The condensed amalgam is excellent to carve and the physical properties of this amalgam ensure a long lasting restoration.
Compressive Strength at one hour    140 Mpa (20,300 psi)
Compressive Strength at 24 hours     434 Mpa (63,000 psi)
Static Creep   1.8%
Dimensional Change (micron/cm)  + 6