Lowest viscosity, deepest penetration
Lowest viscosity
Conseal Clear is the lowest viscosity sealant. The ideal low viscosity allows Conseal Clear to flow faster and deeper into the prepared pits and fissures. A recognized cause of pit and fissure sealant failure is an inability to seal. The tighter seal optimizes Conseal Clear's mechanical retention and eliminates the space required for bacteria to grow.
Conseal Clear's tight seal is further enhanced by its unique UDMA resin system's lower shrinkage and by being BIS-GMA free, avoiding the controversy of Bisphenol A.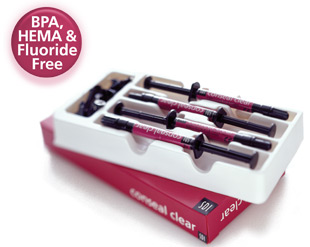 Low viscosity Super Etch LV
SDI has created a specialized blue gel 37% phosphoric acid etchant for sealants, in a direct delivery system. Super Etch LV's lower viscosity improves the acid's surface contact for deeper etchant penetration into the pits and fissures. The deeper acid penetration strengthens the mechanical bond and the retention success of Conseal f sealants.
Clinically proven
Conseal pit and fissure sealants are clinically proven. 5,363 Conseal sealants placed in 774 children found no failures due to the material and established that "sealants contribute significantly to dental public health".(1)
Bio compatible
Conseal Clear's low water solubility minimizes breakdown of the sealant in the oral environment.
Tip size comparison**
Conseal Clear's syringe and complet tip diameter opening is only 0.41mm; significantly smaller than the alternatives of 1.5mm or 1.3mm.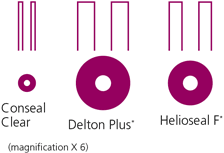 (1) Messer LB, Calach H, Morgan MV (1997). The retention of pit and fissure sealants placed in primary school children by Dental Health Services, Victoria. Australian Dental Journal 42:(4);223-239.
* Delton Plus and Helioseal F are not the registered trademarks of SDI Limited.