The Newest Addition to the Pola Range
Pola Professional
Pola Professional is a hydrogen peroxide whitening system designed to medically bleach endodontically treated teeth. Using the "walking bleach" technique, Pola Professional provides an easy and reliable whitening system for non-vital tooth bleaching.
Extremely fast application
1 and 3 patient kits
Pola Professional is available with 2 different delivery systems to suit your needs:
1.    Dual Barrel – Auto mixed direct delivery
2.    Powder Liquid – Operator mixed & applied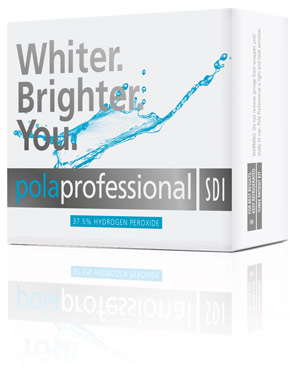 37.5% HYDROGEN PEROXIDE
Dual Barrel – Auto Mixed Direct Delivery
The automix system offers significantly shorter prep time, freshly activated gel as needed and a convenient direct and precise application.
35% HYDROGEN PEROXIDE
Powder Liquid – Operator Mixed and Applied
Once mixed, the powder and liquid forms a bright blue foam like gel which is non-sticky and non-stringy, making placement inside the open pulp chamber easy.